Actualiteit
10 mei 2023
13:00 - 18:30
Neude Library
Honours Community Day
Dear students and colleagues,
The Honours Community Day is approaching, and it's shaping up to be a fascinating event! This is your chance to experience the honours community like never before, so don't forget to save the date and keep an eye out for sign-ups!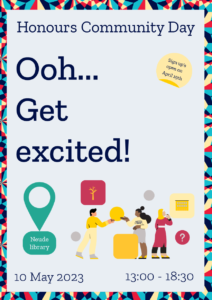 What is the Honours Community Day? 
During this event, honours students and staff alike will come together from across the various programmes and share their academic adventures, ideas and passions! Whether it's through a fun borrel or one of our many fascinating seminars, you'll end your day with insights and connections you didn't start it with.
What can you expect?
You will receive a more detailed programme of the day in a future email (along with the sign-up link), but for now, here's a little teaser of what to expect:
Student Well-being in Honours Education – Challenges, needs and possible solutions
AI at Uni: A Brave New Educational World – Implications of AI of Higher (honours) Education
Integrating Community Engaged Learning in Honours Education
Selectivity and Inclusivity in Honours
Student Project Exhibition
Logistical information:
The event will take place from 13:00 to 18:30 on Wednesday, the 10th of May. You can find the event in the heart of Utrecht at Neude Library.
Location: Bibliotheek Neude
Teacher of the Year Award:
You can still vote for your favourite honours teacher! The deadline to submit your nominations is April 10th. Use the link below to vote!
Nomination form: Honours Teacher of the Year Award 2023 (formdesk.com)
See you there!
Kind regards,
The Honours College team